Vetted by
Professionals
And peer-reviewed by attorneys, so you know it's legit.

5,000+
templates sold
We're the go-to contract source for entrepreneurs, businesses, and companies like HoneyBook.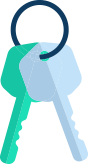 Access to
the K CLUB™
Full of tons of resources to customize your contracts and help grow your business.

no-hassle
returns
We doubt you'll need this, but we're ready to oblige just in case. 14 days. No questions asked.

hold my hand™
guides
With answers to every question you [and your clients] might ask about your contract.